For use with both H2 and H3 models, this "Case Type 1" is designed for the user who needs high bandwidth network capability with high capacity storage to make a high performance system.
A 92mm standard PC cooling fan is included in the side of the enclosure in order to cool the system and be sure that it operates at optimum temperatures.
OBSOLETE PRODUCT
Supported storage:
On-board eMMC 5.1 module
On-board M.2 NVMe (NGFF-2280)

Up to 2 x 3.5" SATA HDD (At least 1 drive must be mounted in order to securely hold the enclosure structure)

SATA Data & Power cables must be purchased

The disk drive mounting screws (#6-32x10mm) are included in the package.
The power and reset switches are accessible through the hole at the front
Optional LED Power Button (diameter: 16mm) can be installed at the front
Size : 118 (L) x 236 (W) x 132 (H) mm
Package Contents:-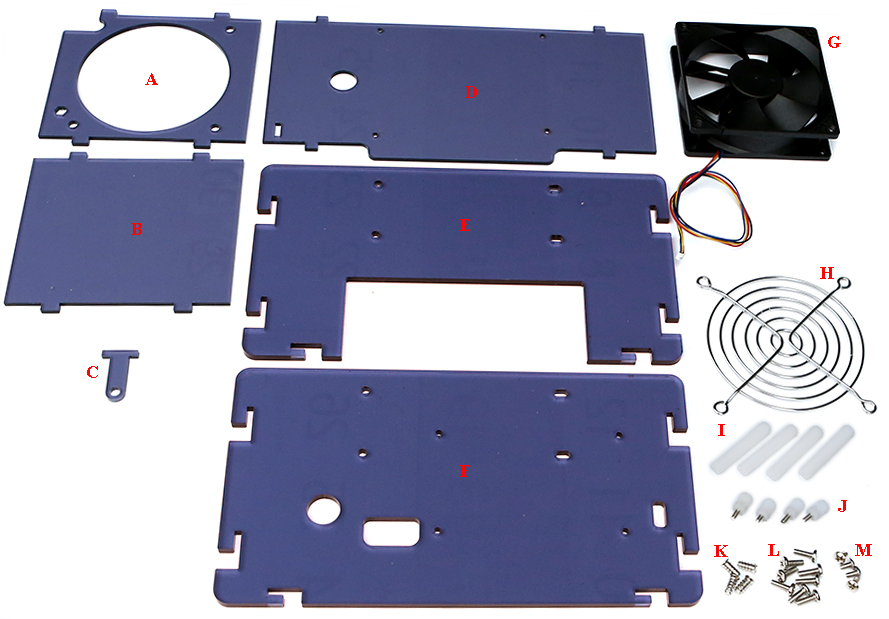 A. Cooling fan panel
B. Side panel
C. Side lock piece
D. Top panel
E. Rear panel
F. Front panel
G. 1 x 92x92x25mm DC 5V Cooling Fan
H. 1 x 92mm Stainless Cooling Fan Grill
I. 4 x 40mm (F) PCB Supports
J. 4 x 10mm (M) PCB Supports
K. 4 x M5 PC Fan Screws
L. 4 x 6mm M3 Truss Head Bolts
M. 8 x 10mm #6-32 Round Head Screws
Motherboard Specification
Processor
Intel Gemini Lake 2.3Ghz Quad-core processor J4105 (14nm) with 4MiB Cache
RAM Memory
Dual-channel Memory DDR4-PC19200 (2400MT/s) (not included) 2x Slots (up to 32Gb)
Graphics
Intel UHD Graphics (Gen9.5) 600 (GT1) 700Mhz - 4K compliant
Storage
Slot for M.2 NVMe SSD, Slot for eMMC Card (not included)
I/O Connectors (ODROID)
HDMI-A x 1, USB 3.0 Host x 2, USB 2.0 Host x 1, PWM for Cooler Fan, UART for serial console 30Pin : GPIO/IRQ/SPI/ADC, 12Pin : GPIO/I2S/I2C
Network
Ethernet RJ-45
Input Power
14-20V DC Power (not included)
Contents Of Box
Product
Odroid H2
Power Adaptor
14-20V Power Adaptor (UK,EU,US available) - Optional
Additional accessories
Heatsink, Case (4 types available)
Odroid H2 / H3 Case 1 [77802]
Brand: Hard Kernel
Product Code: Odroid H2 / H3 Case 1
Availability: In Stock
Related Products