The ODROID-VU7A Plus is a new 7-inch multi-touch screen for the ODROID-C2, ODROID-C1+ and ODROID-XU4 – with audio capability!

7" multi-touch screen for ODROIDs gives users the ability to create all-in-one, integrated projects such as tablets, game consoles, infotainment systems and embedded systems. The 1024 x 600 display connects to ODROID-C2 / C1+ via an HDMI link board and a micro-USB link board which handles power and signal. Just connect a DC plug in to the DC-jack on C2 / C1+, and you are ready to play, once you install the latest OS up- date. This high-quality touchscreen is specifically designed to work with both Android and Linux on the ODROID-C1+, ODROID-C2 and ODROID-XU4

Specifications
- 7" TFT-LCD with audio capability

- Screen Resolution: 1024 x 600 pixels
- 5 finger capacitive touch input
- Power consumption : 600mA/5Volt
- Backlight on/off slide switch
- Wide Viewing angle (in degree) : Left 75, Right 75, Up 75, Down 75
- Screen Dimensions : 172.9 x 124.3 x 15 mm Including switch and connectors)
- Viewable screen size : 153.6 x 86.64 mm (active area)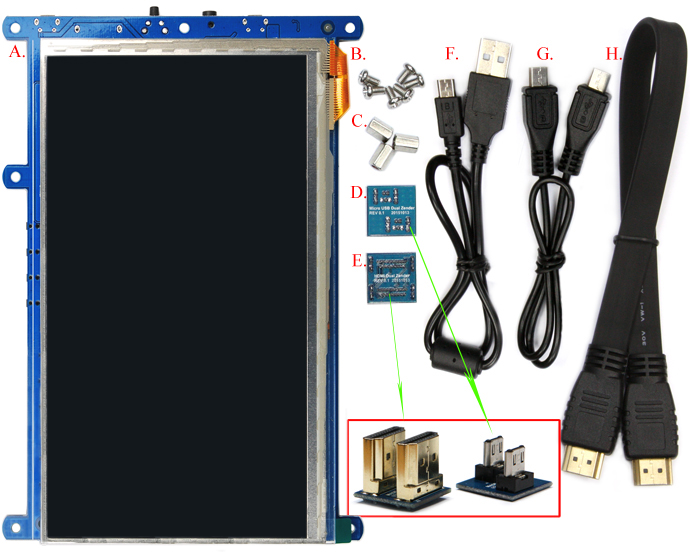 Package includes
A. Fully assembled 7inch display
B. 6 x 3.5mm screws
C. 3 x Hex nuts
D. Micro USB link board (optional)
E. HDMI link board (optional)
F. Micro-to-TypeA USB Cable (approx. 35cm)
G. Micro-to-Micro USB Cable (approx. 35cm)
H. TypeA-to-TypeA HDMI cable (approx. 35cm)
---
Assembly Guide
Option 1 : Mount the C2/C1+ board on the LCD unit with 3pcs of 8mm PCB supporters. The HDMI link board and micro-USB link board are used for interface and power supply.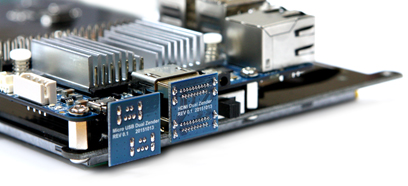 Option 2 : A Micro-to-micro USB cable and flexible flat HDMI cable can be used as well. The 35cm cable kit is included.
with ODROID-XU4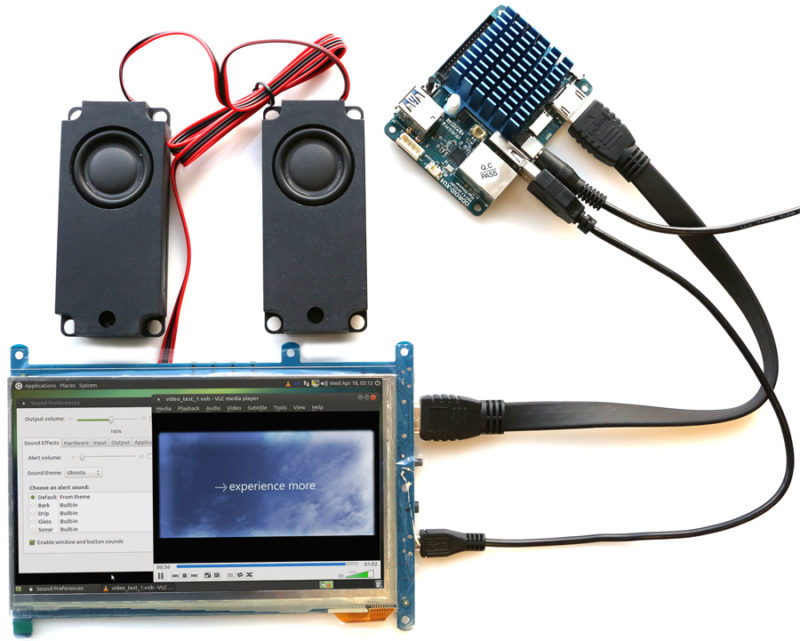 ODROID VU7A Plus - 7" 1024 x 600 HDMI multi-touch display (with audio) [77703]
Brand: Hard Kernel
Product Code: ODROID VU7A Plus with audio capability
Availability: In Stock
Related Products