For use with both H2 and H3 models, t

his "Case Type 4" is designed for the user who needs high a performance network machine, but with a lower storage requirement than the Type 1 Case.


The Odroid H2 and H3 series boards have a fanless design - and this case is designed with two 92mm cooling holes at the top of the case - one to exhaust the heat from the processor, the other too exhaust heat from Hard Drives.


For extra cooling you also can install 92mm x 92mm standard PC cooling fans into these exhaust holes if larger processing is being used / more heat is being generated.


Supported Storage:
Owing to the physical limitation of the design, only the below combination of the storage drives are supported.
On-board eMMC 5.1 module
On-board M.2 NVMe (NGFF-2280)
Up to 1 x 3.5" SATA HDD or SSD

Up to 2 x 2.5" SATA HDD or SSD (Max height : 15mm)

"SATA Data and Power Cable" must be purchased
The disk drive mounting screws (M3x6mm and #6-32x6mm) are included in the package.
The power and reset switches are accessible through the hole at the front
Optional power on/off switch (diameter 16mm) can be installed at the front
Dimensions:
209 (L) x 132 (W) x 106 (H) mm
Package Contents: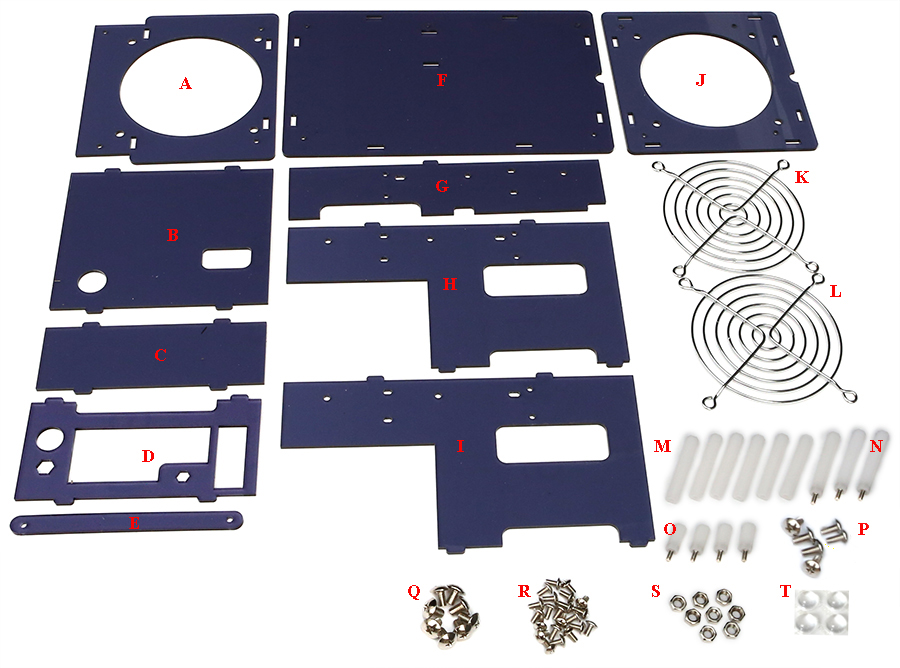 A. Rear-top panel
B. Front panel
C. Rear-back panel
D. Rear panel
E. Front space filler
F. Bottom panel
G. 2.5"/3.5" inner drive bracket
H. Left panel
I. Right panel
J. Top panel
K. 1 x 92mm stainless cooling fan grill for front-top
L. 1 x 92mm stainless cooling fan grill for rear-top
M. 6 x 40mm (F) PCB Supports
N. 3 x 40mm (M) PCB Supports
O. 4 x 15mm (M) PCB Supports
P. 6 x 6mm #6-32 Round Head Screws
Q. 8 x M5 Truss Head Bolts
R. 20 x 6mm Truss Head Bolts
S. 8 x M5 Nuts
T. 4 x Rubber Feet (Round / Clear)
Motherboard Specification
Processor
Intel Gemini Lake 2.3Ghz Quad-core processor J4105 (14nm) with 4MiB Cache
RAM Memory
Dual-channel Memory DDR4-PC19200 (2400MT/s) (not included) 2x Slots (up to 32Gb)
Graphics
Intel UHD Graphics (Gen9.5) 600 (GT1) 700Mhz - 4K compliant
Storage
Slot for M.2 NVMe SSD, Slot for eMMC Card (not included)
I/O Connectors (ODROID)
HDMI-A x 1, USB 3.0 Host x 2, USB 2.0 Host x 1, PWM for Cooler Fan, UART for serial console 30Pin : GPIO/IRQ/SPI/ADC, 12Pin : GPIO/I2S/I2C
Network
Ethernet RJ-45
Input Power
14-20V DC Power (not included)
Contents Of Box
Product
Odroid H2
Power Adaptor
14-20V Power Adaptor (UK,EU,US available) - Optional
Additional accessories
Heatsink, Case (4 types available)
Odroid H2 / H3 Case 4 [77805]
Brand: Hard Kernel
Product Code: Odroid-H2 / H3 Case 4
Availability: In Stock
Related Products