This MIPI camera kit has an OV5647 sensor chip which can capture up to 5 Mpixel images and 720p/30fps video streaming. You can get reasonably good imaging whether it is in the daytime or at night thanks to the automatically switchable IR-Cut filter and two IR Lights. Realtime image inputs from the MIPI-CSI port can be widely used for Machine-Learning applications.
Features
All-day image – it's built-in IR-cut camera, automatically switches day and night mode for better and clearer image. This can avoid image color cast, which is easier for beginners to use.
MIPI CSI interface carries 5 megapixels data from the camera back to the processor.
The IR video Camera is capable to capture 2592 x 1944 pixel static images, and also supports 1080 P @ 30 FPS, 720 P @ 60 FPS and 640 x480 P 60/90 video Recording, with 5MP Ov5647 1080P webcam sensor.
Specification
Embedded Switchable IR-cut filter, eliminating color distortion in the daylight
Comes with infrared LED, supports night vision
5 megapixel OV5647 sensor
CCD size: 1/4 inch
Aperture(F): 1.8
Focal length: 3.6 mm (adjustable)
Field of view: 75.7 degrees (diagonal)
Sensor best resolution: 1080p
Screw holes which are used for a fixed position
3.3V power consumption
Support connecting infrared LED or flash LED
Dimension: 31 mm x 32mm
IR-cut Filter
Infrared cut-off filter for cameras
Cameras typically capture pictures for humans to see, and the images taken should look natural and appealing to human eyes.
However, most camera imagers can see the infrared, while we can't. To help the imager better see what we see, we need to cut the infrared off.
This is when an IR cut-off filter is used. By employing an IR cut-off filter above the image sensor, the camera will only capture visible light.
Switchable IR-Cut filter: Regular and NoIR cameras combined
The NoIR camera module is an infrared camera module that gives you everything the regular camera module offers, with the only difference being the infrared cut-off filter.
It does not employ an infrared filter, so it can be used with infrared lighting. However, its pictures taken in the daylight will not look natural to our human eyes, usually more reddish.
This is why the switchable IR-cut filter becomes meaningful. It offers you an on-demand control of the IR sensitivity by mechanically switching the IR filter in and out, so it's like regular and NoIR cameras combined.
Automatic IR-Cut filter control
The majority of switchable IR-cut filters are deployed for surveillance use, which requires the camera to maintain color accuracy throughout the daytime and night vision at night.
We don't have to tell whether it's already nighttime, because a light-sensitive trigger would do the work. A photo resistor(CdS) is such a trigger, and it can determine whether
The lighting condition is poor, so the IR illumination should be turned on and the IR filter switched off.
M1 MIPI-CSI Camera Kit day-night vision camera uses photo resistors to automate the IR switching. This is the default option and no extra settings are required.
Package Includes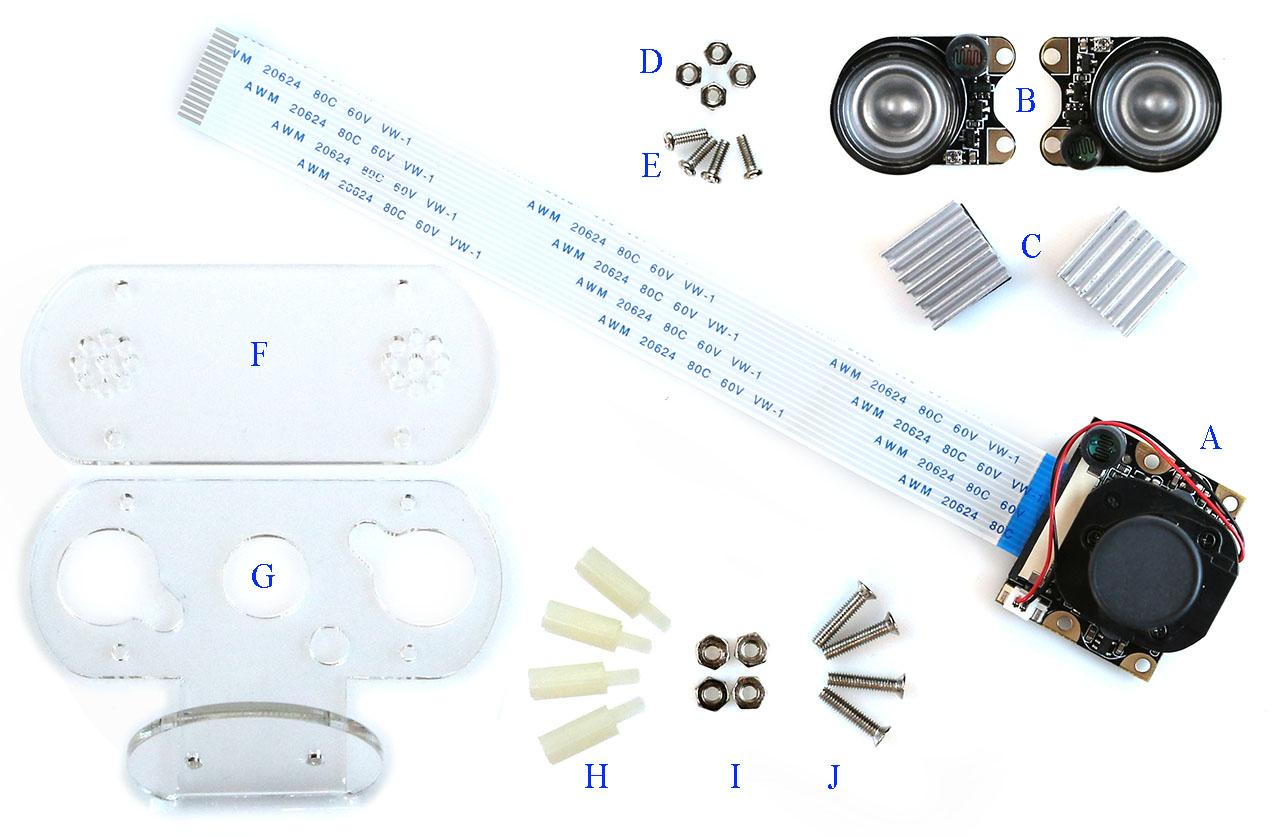 A. 1 x Switchable IR-cut camera with 15cm FFC

B. 2 x IR lights

C. 2 x IR lights heat sink

D,E. 1 set x Screws and nuts for assembling IR Lights

F, G. 1 x Acrylic holder

H, I, J. 1 set x screws, nuts, and spacers for standing up the camera on the holder.






Caution! : MIPI-CSI(OV5647) Camera and/or ODROiD-M1 will be burnt out and get permanent damage

if you install or remove the camera while ODROID-M1 is running, or the cable sits in wrong position. Please make sure to install or remove it properly only when ODROID-M1 is turned off.
Odroid-M1 MIPI-CSI Camera Kit [81012]
Brand: Hard Kernel
Product Code: Odroid-M1 MIPI-CSI Camera Kit
Availability: In Stock