The ODROID N2-4GB version kit has everything you need to get started with the ODroid N2-4GB computer system, complete and straight out of the box. Parts included in the kit are:-
Odroid N2-4GB mainboard
Black plastic slide case
Power Supply

N2 Case
16GB eMMC pre-installed (select Android or Linux from dropdown)
Bluetooth Module

Odroid RTC Backup Battery
**Note- Anti-static protection case front will be pre-installed. Attempts to remove or open will invalidate warranty**

ODROID N2 4GB BOARD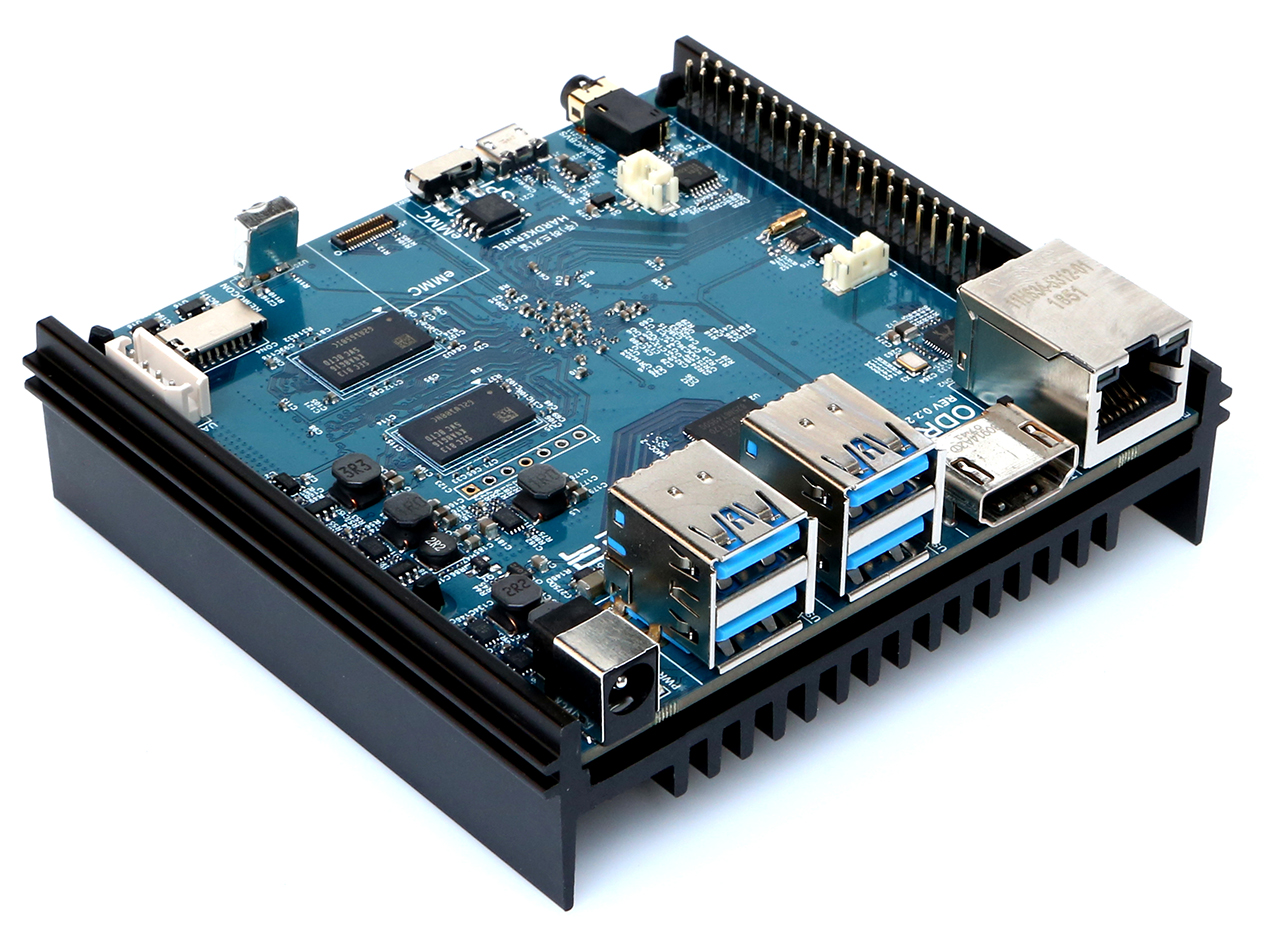 The main CPU of the N2 is based on big.Little architecture which integrates a quad-core ARM Cortex-A73 CPU cluster and a dual core Cortex-A53 cluster with a new generation Mali-G52 GPU.

With 12nm silicon technology, the A73 cores run at 1.8Ghz without thermal throttling using the stock metal-housing heatsink allowing a robust and quiet computer.
The CPU multi-core performance is around 20% faster and the large metal housing heatsink is designed to optimize the CPU and RAM heat dissipation and minimize throttling. The CPU is placed on the bottom side of the PCB to establish great thermal characteristics.
The onboard DDR4 RAM is 35% faster than the RAM of the older N1 model, running at 1320Mhz while N1's DDR3 was running at 800Mhz.
EMMC Card
Designed for ODROID-N2 and pre-installed with either Linux Ubuntu 18.04 LTS MATE or Android 9.0 (Pie). Ready to run with no writing / config required.

eMMC Storage Performance
Sequential read and write speed is over 150MB/s and 125MB/s respectively. iozone test result are as follows:-

Different Operating systems can be "burned" onto this board using the Etcher software - you need the eMMC Module Reader or USB3.0 eMMC Module Writer to flash or update the OS of the eMMC Module.

OS Images can be downloaded from the below:-
...and can be flashed to the eMMC using the Etcher Software at the below:-
RTC Backup Battery


RTC backup battery - Lithium primary battery used to back up the Real Time Clock on the ODROID N2 board. This battery can keep the RTC running for up to 3 years without needing an external power supply.

Specification :-


Coil Cell : CR2032 3Volt/220mAH
Wire : 70mm
Connector : Molex 51021-0200 compatible (1.25mm pitch)
Bluetooth Module


The mini USB Bluetooth dongle.
CSR8510 A10 Chipset inside
Supports
Classic Bluetooth v2.0
Bluetooth High Speed v3.0
Bluetooth low energy v4.0 (BLE)

Android OS supports only Classic Bluetooth v2.0
Ubuntu Linux OS supports also BLE.
Odroid-N2 4GB Kit with eMMC - Black Case Edition [77305]
Brand: Hard Kernel
Product Code: Odroid-N2 4GB Kit with eMMC - Black Case Edition
Availability: Pre-Order