**Including Olive Gray Case, Power Supply, Choice of eMMC Pre-Installed with OS and RTC Battery. Fully assembled.**


Open source home automation that puts local control and privacy first.
Powered by a worldwide community of tinkerers and DIY enthusiasts, the Home Automation bundle allows for control of all your compatible household devices from the app on your phone. Think Apple Homekit, but better.


The ODROID-M1 offers more storage options than the Raspberry Pi 4. It can accommodate a standard size 22 mm x 80 mm M.2 NVMe storage device, which can achieve sequential access performance of up to 1600 MB/sec. It also has a SATA 3.0 port for 2.5-inch storage devices, which can deliver sequential access of nearly 500 MB/s.
In addition to the M.2 NVMe and SATA 3.0 ports, the ODROID-M1 also has an eMMC socket and a microSD card slot. The eMMC socket is the best option for performance and reliability, and Hardkernel offers a selection of compatible eMMC modules in their store.
The ODROID-M1 also has a neural network processing unit (NPU) capable of providing up to 0.8 TOPS. This allows the ODROID-M1 to run machine learning models that are 30-40 times faster than on the Raspberry Pi 4.
The ODROID-M1 consumes approximately 4.5W under heavy computing load and as little as 1.3W when idle. It also has good thermal characteristics, with the CPU core temperature hovering around 50 °C under heavy load at a 35 °C ambient temperature. This means that the ODROID-M1 can operate in various environments without the need for noisy active cooling.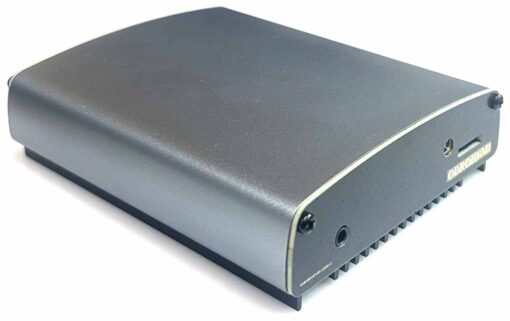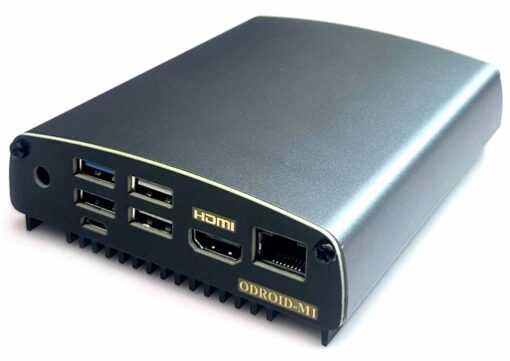 Easy to use
Getting started is as easy as plugging in the network and power cables and opening up the Home Assistant mobile app to get started.

Reliable
The Home Assistant Standard Bundle comes with a bundled eMMC storage card. Plenty of space for all your integrations.
Resilient

The Home Assistant Standard Bundle has a sturdy metal case designed by us - which will keep your system safe, secure, and well ventilated.



Open source
All software that runs on Home Assistant Standard Bundle is open source using the Linux kernel - including all the hardware drivers!
What's in the bundle


Olive Gray Metal powder-coated case

ODROID-M1 with 4 or 8GByte RAM

eMMC Card storage with Home Assistant pre-installed
RTC backup battery
Power adapter (12V/2A)
Home Assistant is future proof
The Home Assistant Bundle is powered by a powerful processor, solid amount of RAM memory and comes with a comfortable amount of storage.It allows you to easily run Home Assistant, a couple of add-ons and then a couple more. It will be able to easily integrate thousands of devices and run thousands of automations.


Form Factor
Dimensions: 14mm x 95mm x 40mm approximately.

Weight: 300g including heatsink and metal case

Processor
Amlogic S922X Processor (12nm fab) Quad-core Cortex-A73(up to 2.4Ghz) and Dual-core Cortex-A53 (up to 2Ghz)

ARMv8-A architecture with Neon and Crypto extensions

Mali-G52 GPU with 6 x Execution Engines (800Mhz)

NPU



0.8Tops@INT8, integrated high-performance AI accelerator RKNN NPU
Supports one-click switching of Caffe/TensorFlow/TFLite/ONNX/PyTorch/Keras/Darknet

Memory
DDR4 2GiB with 32-bit bus width. Data rate: 2640 MT/s (PC4-21333 grade)

1.2Volt low power design

Storage
1 x eMMC connector 1 x microSD slot (DS/HS modes up to UHS-I SDR104) - eMMC cARD Preinstalled
Networking
1 x GbE LAN ports (RJ45, supports 10/100/1000 Mbps)– Realtek RTL8211F (Ethernet transceiver)

– LED indicators

* Green LED: Flashing by data traffics at 100Mbps connection

* Amber LED: Flashing by data traffics at 1000Mbps connection

Optional WiFi USB adapters

Video
1 x HDMI 2.0 (up to 4K@60Hz with HDR, EDID)
1 x MIPI-DSI (works with 800 x 1280 LCD)

Audio
1 x 3.5mm phone jack
1 x mono speaker output
1 x HDMI sound

External I/O
2 x USB 2.0 host port
2 x USB 3.0 host port (or 1 x USB 3.0 host + 1 x USB 2.0 OTG port)
1 x Debug serial console (UART, 1.5Mbps N81)
1 x SATA Connector
1 x MIPI-CSI Camera Interface (15 pin)
1 x MIPI-DSI LCD Interface (31 pin)
1 x 40pin GPIO header

Other features
IR receiver for remote controller
RTC and backup battery holder (to keep time and date for several months without main power input)
System LED Indicators:
– Red (POWER) – Solid light when DC power is connected
– Blue (ALIVE) – Flashing "heartbeat" while Kernel is running. Solid On when in the u-boot stage.

Power
1 x DC jack : outer (negative) diameter 5.5mm, inner (positive) diameter 2.1mm
DC input : 7.5V ~ 15.5V
– DC 12V/2A power adapter is recommended


Power consumption:

– IDLE : ≃ 1.25W
– CPU Stress : ≃ 4.44W (Performance governor)
– Power Off : ≃ 0W

We recommend powering the ODROID-M1 with a good quality 12V/2A power adapter.
Home Assistant M1 Edition Create Your Own Bundle [82000]
Brand: Hard Kernel
Product Code: Home Assistant M1 Edition Create Your Own Bundle [82000]
Availability: In Stock
Related Products