**ODROID-N2+ including Case and RTC Battery.

Fully assembled.**

A new generation single board computer that is more powerful, more stable, and faster performing than the previous N2 Model.


------------------------------


**LOOKING FOR A MEDIA PLAYER SPECIFIC VERSION? Take a look at the more economically priced CoreElec edition at the below:-




------------------------------


– Maximum CPU clock of Quad-core Cortex-A73 is increased to 2.4Ghz from 1.8Ghz.
– Maximum CPU clock of Dual-core Cortex-A53 is increased to 2.0Ghz from 1.9Ghz.
– On-board RTC backup battery holder is mounted on the board.
The main CPU is based on big.Little architecture which integrates a quad-core ARM Cortex-A73 CPU cluster and a dual core Cortex-A53 cluster with a new generation Mali-G52 GPU.
Thanks to the modern 12nm silicon technology, the A73 cores run at 2.2Ghz without thermal throttling using the stock metal-housing heatsink allowing a robust and quiet computer.
The CPU multi-core performance is around 20% faster and the GPU is 10% faster than the N1. The N2+'s DDR4 RAM is running at 1320Mhz with 1.2volt low power consumption.
The large metal housing heatsink is designed to optimize the CPU and RAM heat dissipation and minimize throttling. The CPU is placed on the bottom side of the PCB to establish great thermal characteristics.
More information is on our WiKi.
Board Detail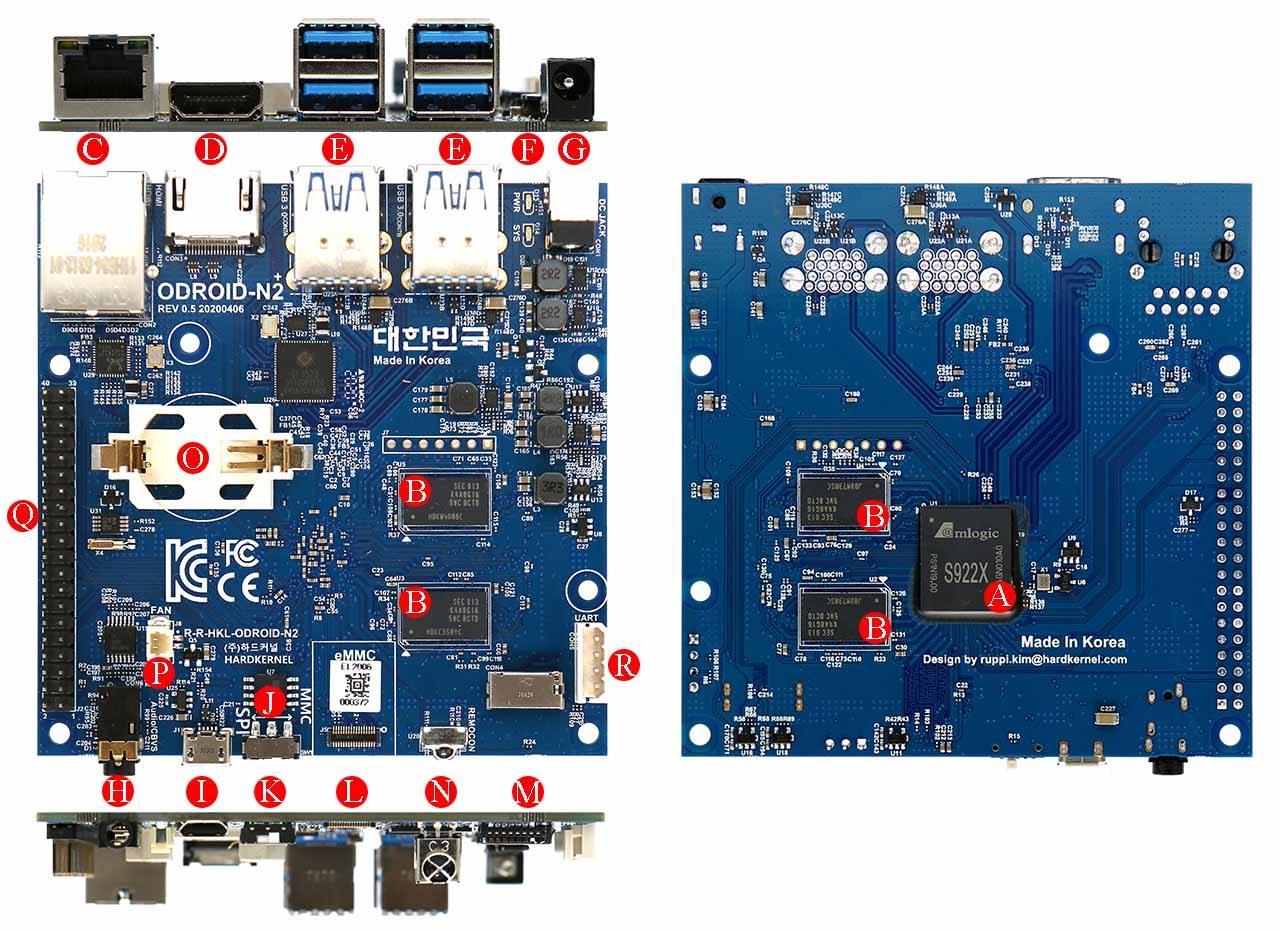 | | | | |
| --- | --- | --- | --- |
| A | S922X CPU | J | 1 x SPI Flash 8MiB |
| B | 2GB DDR4 RAM | K | 1 x SPI Boot Select Switch |
| C | 1 x RJ45 Ethernet Port (10/100/1000) | L | 1 x eMMC Module Socket |
| D | 1 x HDMI 2.0 | M | 1 x Micro SD Slot |
| E | 4 x USB 3.0 | N | 1 x IR Receiver |
| F | 2 x System LED Indicators | O | 1 x RTC Backup Battery Holder |
| G | 1 x DC Power Jack | P | 1 x Active Cooling Fan Connector (2-pin) |
| H | 1 x AV Out (Stereo Audio with Composite video) | Q | 40 x GPIO Pins |
| I | 1 x Micro USB2.0 OTG | R | 1 x UART for System Console |
Heatsink size comparison : The system height decreased from 34mm to 29mm approximately thanks to the slimmer heatsink.
Motherboard Specification
Audio
1x Stereo Line Out (3.5mm Jack) / 1 x HDMI digital output / 1x Optional SPDIF optical output
Video Output
1x HDMI 2.1 (up to 4k 60Hz with HDR, CEC, EDID
Processor
Amlogic S922X Processor (12nm) / Quad-Core ARM Cortex-A73 CPU cluster + Dual Core Cortex-A53 cluster
RAM Memory
DDR4 4GB or 2GB Versions available with 32GB Bus Width / 2640MT/s (PC4-21333 grade)
Graphics
Mali-G52 GPU with 6x Execution Engines (846 MHz)
Storage
1x eMMC Module Connector (8GB / 16GB / 32GB / 64GB / 128GB cards available) / 1x microSD slot (DS / HS modes up to UHS-1)
I/O Connectors (ODROID)
4x USB 3.0 Host ports / 1x USB 2.0 OTG port / 1x Debug serial console
Network
1x GbE LAN ports (RJ45, supports 10/100/1000 Mbps) (Realtek RTL 8211F)
Common Parameters
Power
1x DC Jack 5.5mm x 2.1mm - DC 12V 2A included.
Odroid-N2+ 2GB RAM with Case [77302]
Brand: Hard Kernel
Product Code: Odroid-N2+ 2GB RAM with Case
Availability: In Stock
Related Products