ODROID-XU4Q is powered by ARM® big.LITTLE™ technology, the Heterogeneous Multi-Processing (HMP) solution.

ODROID-XU4 is a new generation of computing device with more powerful, more energy-efficient hardware and a smaller form factor.

Offering open source support, the board can run various flavors of Linux, including the latest Ubuntu 15.04 and Android 4.4 KitKat and 5.0 Lollipop.
By implementing the eMMC 5.0, USB 3.0 and Gigabit Ethernet interfaces, the ODROID-XU4 boasts amazing data transfer speeds, a feature that is increasingly required to support advanced processing power on ARM devices.
This allows users to truly experience an upgrade in computing, especially with faster booting, web browsing, networking, and 3D games.
Package includes
- ODROID-XU4Q Board

- Passive Heatsink (pre-mounted)
---
***NOTE - ODROID XU4 units must have an eMMC card or an Industrial specification SD Card to run reliably. You can purchase SD Cards with a pre-installed operating system by clicking the below image***:-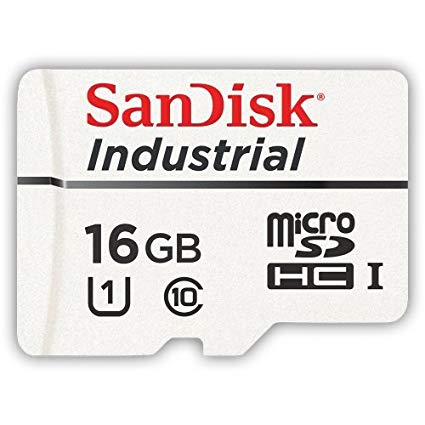 ---
Odroid XU4Q Specifications:-
Processor

Samsung Exynos5422 ARM® Cortex™-A15 Quad 2.0GHz/Cortex™-A7 Quad 1.4GHz

Memory

2Gbyte LPDDR3 RAM PoP (750Mhz, 12GB/s memory bandwidth, 2x32bit bus)

3D Accelerator

Mali™-T628 MP6 OpenGL ES 3.1 / 3.0 / 2.0 / 1.1 and OpenCL 1.2 Full profile

Audio

HDMI Digital audio output. Optional USB sound card

USB3.0 Host

SuperSpeed USB standard A type connector x 2 port

USB2.0 Host

HighSpeed USB standard A type connector x 1 port

Display

HDMI 1.4a with a Type-A connector

Storage (Option)

eMMC module socket : eMMC 5.0 Flash Storage (up to 64GByte)
MicroSD Card Slot (up to 128GByte)

Fast Ethernet LAN

10/100/1000Mbps Ethernet with RJ-45 Jack ( Auto-MDIX support)

WiFi (Option)

USB IEEE 802.11 ac/b/g/n 1T1R WLAN with Antenna (External USB adapter)

HDD/SSD SATA interface (Optional)

SuperSpeed USB (USB 3.0) to Serial ATA3 adapter for 2.5″/3.5″ HDD and SSD storage

Power Input

4.8Volt~5.2Volt (5V/4A Power supply is recommended)

System Software

Ubuntu 16.04 + OpenGL ES + OpenCL on Linux Kernel 4.14 LTS
Android 4.4.2 on Kernel LTS 3.10
Android 7.1 is available as a community driven OS development.
Full source code is accessible via our Github.

Size

83 x 58 x 20 mm (weight: 38gram) without cooler approx.
Motherboard Specification
Processor
Samsung Exynos-5422 : Cortex™-A15 and Cortex™-A7 big.LITTLE processor with 2GByte LPDDR3 RAM
RAM Memory
2GByte LPDDR3 RAM
Graphics
Samsung S2MPS11 9 high-efficiency Buck, 1 Buck-Boost regulators, RTC and 38 LDOs. Contact Samsung for more information
Storage
eMMC5.0 HS400 Flash Storage
Network
I/O Connections (additional)
USB 3.0 Host x 2, USB 2.0 Host x 1, PWM for Cooler Fan, UART for serial console Ethernet RJ-45, 30Pin : GPIO/IRQ/SPI/ADC, 12Pin : GPIO/I2S/I2C
Input Power
5V
Contents Of Box
Product
Odroid XU4
Power Adaptor
5V/4A Power Adaptor (UK,EU,US available)
Additional accessories
Heatsink
Odroid XU4Q [77410]
Brand: Hard Kernel
Product Code: ODroid-XU4Q
Availability: In Stock
79.95€

Ex Tax: 66.62€

---

10 or more 74.71€
Related Products